200 Ridgetop Drive #24 - Redding, CA. 96003
---
This Condo located in Redding has 2 bedrooms, 2.5 bathrooms with a 2 car attached garage. The Kitchen counters have just been replaced with Corian solid surface counters, and they look great. The convenient location in the Ridgecrest Condominium Complex on upper Hilltop Drive makes this one of the most desirable complexes in town. With just 40 units of its type you can make a great lifestyle choice and at a terrific price of just ,

Sold !!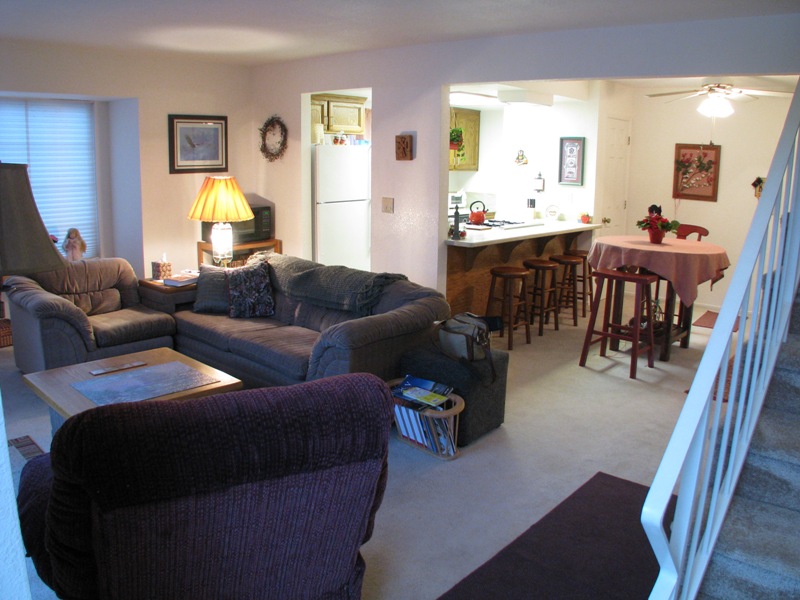 An inviting entry to your new home.
---
#2


Front door and patio area.

#3


Street view with the attached garage.

#4


Dining area.

#5


Kitchen, open to living and dining areas.

#6


Corian counters in the Kitchen.

#7


Another Kitchen an Dining view.

#8


Living Room shown here with the patio beyond, entrance, and stairs. A new cellular blind for the glass doors has now been installed.

#9


The front courtyard patio overlooking the pool, note the extendable patio cover.

#10


The Master Bedroom,
both bedrooms are upstairs.

#11


View from the Master bedroom window.

#12


Master Bedroom sink area.

#13


Bedroom #2.

#14


The garage has additional cabinet storage.

Interested in seeing it in person?

Priced at just give me a call.

530-227-7722
This site; Redding-Real-Estate.com is intended to help people who are looking to find information about Redding California Real Estate including the surrounding communities of Cottonwood, Anderson, Bella Vista, Palo Cedro, Red Bluff, Shasta Lake, Old Shasta, Shingletown, Whitmore, Oak Run, Millville, Happy Valley, Lakehead, Lake California, and Real Estate in Shasta County. The site is designed and maintained by Realtor Eric Lewis. The focus here is the inclusion of a large amount of images that relate, and that a picture tells a thousand words. Pictures and a lot of them is the idea, with more photos being added regularly in different sections of the site If you take your time to navigate the site you will see that this is truly a great place, and I'm proud to call it home.