One of California's Last Frontiers
Redding CA is the gateway to "Far Northern California", or "Upstate California" as some know it.  Redding is surrounded on three sides by mountains, located at the northern end of California's Central Valley.  Significant amounts of land in our portion of Northern California are within National Recreation Areas, National Wilderness Areas, National Forests, State Parks and State Forests. Be sure to visit Redding Places of Interest, it includes the destinations and scenery that many people love about this area.  An abundance of local information can be found there, further down on this page, and on the Links page.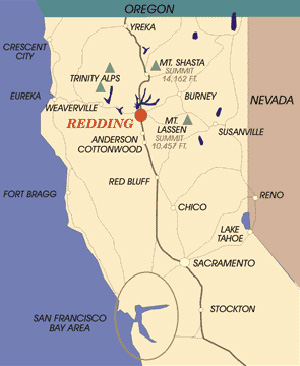 North:
Mt. Shasta and its 14,162 foot peak dominate the view, it's approximately an one hours drive to see it beauty up close. On your way up Interstate 5 from Redding California you would pass by Shasta Lake. Many people mistake this lake for a series of lakes because of its many "fingers" that stretch quite a distance. You would also pass by a turnoff to Lake Shasta Caverns which is an underground cavern system that is easily accessible by guided tour.
A bit further you will see an enormous rock formation called Castle Crags. As you pass by these natural wonders, you'll be following the Upper Sacramento River. This is one the most notable fisheries in the United States, a draw to fisherman far and wide. Much of what you wouldn't see on this little trip could fill an encyclopedia.
South:
This takes you out of the forest lands and into the serene beauty of rolling hills of ranch and farming properties in the valley. For those who enjoy the sights and sounds of the city, San Francisco and Sacramento are just a few hours away from Redding CA.
Watch these two video's with Redding area information,
you'll be glad you did.
East:
As we look to the east, the dominating feature is Mt. Lassen with its 10,457 foot peak and aptly named Lassen Volcanic National Park.  This mountain is unique; you can drive your car or truck high enough up so that a "day hike" will get you to the summit and back down, still leaving time to get home in Redding. That isn't the case with Mt. Shasta, as many experienced mountaineers have fallen victim trying to get to the top. Mt. Lassen and the surrounding forests are one of my favorite areas. They are scattered with alpine lakes and have access roads galore.
Burney Falls, just outside the town of Burney was called the seventh wonder of the world by President Teddy Roosevelt. Much of the water that comes over the falls actually comes out of the rocky base of the falls; the very porous lava rock allows it to flow thru. If you enjoy a little gambling, Reno, Nevada, is about a three and one-half hour drive and can make a nice weekend of indulgence.
West:
As you head out of Redding, you pass by Whiskeytown Lake.  Just before and barely outside of town is the historic community of Shasta, the roots of the area from the gold rush era. Continuing west takes you over Buckhorn Summit and into the Trinity Wilderness Area. The Trinity Alps are reminiscent of the Swiss Alps, but a bit closer to home. Trinity Lake, and the small town of Weaverville are in this direction. When leaving the valley where Redding is located you get forest, forest, and more forest.  The Pacific Ocean, about a 3-hour drive from Redding is at the end of the road. This jaunt will take you through Trinity and Humboldt Counties. These counties are renowned for supplying us with the necessary wood products to build our homes.
Redding California - Our Community:
The Mountain Communities:  Redding is at an elevation of 550 feet and traveling to the higher elevations of the surrounding foothills range to more than 4000 feet.  The smaller areas of Shingletown, Whitmore, Oak Run, Round Mountain, French Gulch, or next to Lake Shasta in Lakehead. These areas are mostly within a 30-40 minute drive of Redding.
Country Living:  Within just 10-20 minutes of the center of town, you could be in a somewhat rural setting in Palo Cedro, Millville, Anderson, Cottonwood, Bella Vista, historic Old Shasta, or Mountain Gate. All of these areas have a variety of housing options. The variety of housing options in Nearby Communities and the settings appeal to many who relocate.
Within Redding California:  Both subdivision settings and larger parcels in a variety of sizes and price ranges are available. To see some of these, visit the Redding Area Home Search section.  You'll see properties and homes for sale in Redding and all the various areas. You can choose one of three search options to see all of the active properties for sale.  By being directly connected to the Redding MLS, you know it'll be accurate and up to date. I'd be happy to help you find what you're looking for.
Health Care:
As times change and the years pass by, the health care centers become more important.  With Redding in the middle of this vast area it has become the mecca for the entire area's heath care needs. We have two major hospitals, Mercy Medical Center and Shasta Regional Medical Center both are state-of-the-art. They include the specialties of cancer therapy, cardiac surgery, trauma, laser surgeries, maternity, infertility, reproductive disorders, and others.  Each of these two hospitals have air ambulance services. There is a specialty hospital and a Veterans Medical Center. You can be well served in this community by the abundance of medical services.
Education:
For detailed information you can click the School Info button to get information on the local elementary and high schools.  A very general overview of the higher education options:
Shasta College: A community college with 14,000 enrollment has been here for many years. They have programs for university transfer and occupational-technical training.
Simpson University: A private fully accredited liberal arts school.  they offer several Bachelor of Arts Degrees, a Degree Completion Program and some Graduate degrees.
California State University Chico: Many people commute, it is 75 miles south of Redding and approximately a one hour and ten minute drive. This University also offers some outreach classes in the Redding area.
History:
This community started like many others and was inhabited by the American Indians.  The settlers came to Old Shasta during the Gold Rush and started the Redding community down the path that it has taken, take a look at the Shasta State Historic Park page.  As the Railroad expanded northward to Redding in 1872, it ended at the base of the mountains and stopped.  The Railroad laid out the town of Redding and started selling lots, the first main thoroughfare was California St.  From the mining boom in the early 1900's to the timber industry in the 1950's and 60's, much has happened to make this area the hub of the north state.
One of the more prominent occurrences was the construction of Shasta Dam as part of the Central Valley Project finished in 1945.  You can visit the Historical Society on the web, they are located in the Links section of this site where you can read all about the events that molded this area.
Water:
Oh my!  Where would we be without water? With three major lakes nearby: Shasta, Whiskeytown, and Trinity, and four major rivers.  The Sacramento, McCloud & Pit Rivers plus the nearby Trinity River makes Shasta County a haven for water lovers. This abundance of water has been used to help make the semi-desert Central Valley one of the most productive agricultural areas in the world. When we consider at our day-to-day use, this abundance makes water much less of an issue than in many areas.  In most of the surrounding rural areas it is common for a well to provide domestic water.
I hope this has given you a brief overview of this area and some of its attributes.  We who live here are truly the lucky ones.  The outdoor lifestyle along with affordable housing, low crime rate, excellent educational system, and enviable climate attract many people from larger urban areas and across the nation.  This may be the place you want to call home.